Today's Reader Request is something we can all relate to. I don't know how many times a wedding/soiree invite has snuck up on me and I'm scrambling around to find something to wear. Really, it happens pretty often. I usually just piece something together in haste and some of my fave ensembles have been created that way. 
Today's request is hailing from my gorgeous glamazon cousin Ashlee. She literally turns every head and stop people dead in their tracks with her beauty. She had a little sweet baby girl recently so I'm sure she's looking forward to some adult/alone time with the hubby at these wedding events. What a special occasion to scoop up a new dress and look dazzling, right? Here's what I heard from Ashlee:
Hi RWD! 
Looking at your latest post on Glam's line (HERE) I realized that I'm going to need some help! I've got a rehearsal dinner & wedding to attend in 2 weeks, & need some ideas for a few cute dresses that are appropriate for my tall, post-baby body! (FYI, the wedding is at 4pm & in a church). 
Something colorful and it doesn't matter if it's print or solid...florals can't be too tiny since I'm not. No lacy stuff, puffy sleeves or anything too "girlie" as that looks bad on me with my height. Would love it if you could help! 
Love you bunches, Ash
We've exchanged a few more emails so that I could get a firm sense of what she's looking for and where her budget restrictions might fall. I've rounded up some absolutely amazing dresses below. This took some serious digging and research but I'm certain she'll find two adorable, pretty and perfect frocks for both occasions. 
Thanks for this amazing request Ashlee because as wedding season is in full throttle, we know other readers are needing the same information. We can't wait to hear how you're online shopping trip goes, Ashlee and of course, we hope we were a huge help! PS - Also think about adding a great scarf, soft cardigan or structured bolero to any of the sleeveless dresses below when attending the wedding.
Do you have a Reader Request you're dying to ask? Email us at RunwayDaily@RunwayDaily.com and maybe you're request will grace the pages of this site. Enjoy! 
Click Links/Images for More Info and to Buy
Grecian Green Dress for $89.99
ModCloth Strike It Rich Dress for $58.49
Tiana B. Women's Green Jersey Dress for $46.99
Soho Apparel Women's Ruffle-front Dress for $29.99
Jonathan Martin Women's Belted Chiffon Ruffle Dress for $36.99
Express Belted Sleeveless Dress for $69.50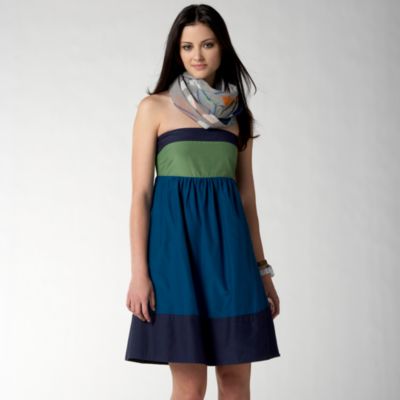 Fossil Blake Dress for $68
French Connection Summer Shadow Dress for $99
London Times Women's Cap Sleeve Bandage Dress for $89.99
 Lucky Brand Printed Silk Dress for $49
Maurice's Rose Print Tie Back Dress for $34
Kaktus Sportswear Women's Ombre Halter Maxi Dress for $39.99
Abstract Appeal Dress for $64.99
Connected Apparel Women's Sleeveless Shawl Collar Dress for $48.99
Want to get RunwayDaily in your inbox daily? Click that cute little guy below: