(Click to Enlarge)
Recently, we were invited to a dear friends house for dinner and donned a great black and white maxi skirt with a grey tank. We giggled when another party-attendee showed up donning a very similar ensemble. We've chatted about maxi skirts before (HERE and HERE) so this shouldn't be new news to all those devout readers. But today we're laying out your summer/fall plan of 'fashion attack' for donning this extremely versatile piece. It's an item that every girl should have in her closet now. 
Above are some amazing maxi skirt looks from the Fall 2010 runway shows. Just to give you some sweet hints on how to don this piece for the upcoming fall/winter season. I know it seems so far in advance, but I like my readers to be ahead of the trends for sure. Pair your maxi with a blazer and comfy T. Or even don it with a long belted cardigan come fall.
Below, I've rounded up some of my favorite Chictopia Fashion Darlings donning maxi skirts for spring/summer bliss. I think it's great to spot real women donning these runway fashions because I think it gives all of us a chance to more easily emulate this on-trend piece. Read below about why I like each ensemble and then shop my top 10 maxi skirts too...enjoy!  
Click Images to Enlarge
Playingwithfire from San Francisco, CA
I love the laid casual look of her ensemble for a day running errands. Including the off-the-shoulder striped T that every lady should own and that velvet maxi rocks. Her peep-toe lace up kicks are adorable and I love how she knotted her leather belt for a more laid back look. 
Lanton from Montreal, Canada
My girl above is sporting a Walmart white T (more on our coverage of Walmart's hottest fashions HERE) and sandals with black socks (more on that HERE). Pairing your spring/summer maxi with a tucked in, comfy T shirt can be either worn casually during the day or glammed up for a nightime soiree too. Absolutely emulate this ensemble...supremely feminine and beyond adorable!
Franco_Fernandez from Newcastle, United Kingdom
I love her pairing of funky fur vest, blush pink bag and great booties with her maxi. Most importantly, she's accessorizing the entire look to perfection and topping it all off with a great hat. Again, a maxi and T shirt can be dressed up and this Chictopia Fashion Darling shows us how. 
Click Links to Shop My Fave Maxi Skirts Below:
Rachel Pally Long Full Skirt for $199
Gap Long Drawstring Skirt for $59.50
Paisley Print Tiered Maxi Skirt for $53.99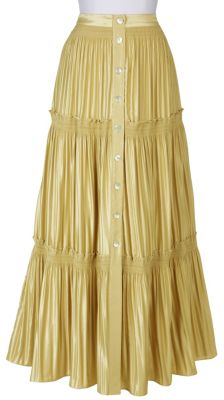 Tall Copacabana Skirt for $79.95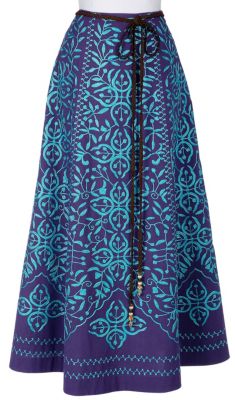 Misses Long Cotton St. Remy A-Line Skirt for $98.95
Women's Tall Long Cotton Lined Tiered Linen Arielle Skirt for $88.95
ESPRIT Cotton Maxi Skirt for $49.50
Want to get RunwayDaily in your inbox everyday? Click that cute little guy below: