Erin, we can't wait to share with you all the great suits we've hand-picked for your reader request! One of the keys to dressing down a bigger bust is ruching (gathering of fabric) and prints. We've picked numerous options with amazing ruching and awesome prints. We also love the idea of purchasing a sleek black tankini and pairing it with all your old bikini bottoms too. We know this will allow you to look/feel bangin' on the beach all spring and summer long. That sweet lil' baby boy that you have is obviously worth the body changes...but we agree, these suits will get your girls back in tip top shape! Thanks for your amazing request, we're sure numerous readers are in the same boat! Have a great day, Erin!
Click suits or links for more info/to buy: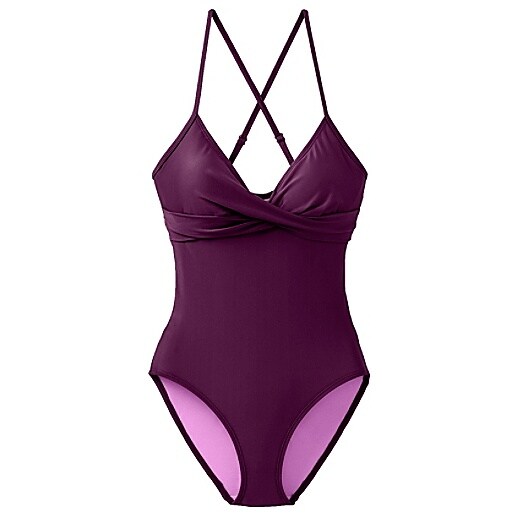 Athleta Solid Bra Cup Twistini Swim One Piece
$79.00
A gorgeous cut and color, this silhouette will be slimming for most figures. We love the criss-cross bust and the skinny adjustable straps add a touch of sex appeal too.

Kirra Swimwear - Womens - Kirra Cutout Bandeau One Piece Swimsuit
$29.50
A print is always a great option for disguising any 'less than perfect' (isn't that all of us) mid-sections! We love the sweet cutout and festive tropical print.

Old Navy Womens Striped Swimsuits
$29.50
Stripes are super hot for spring 2011 and this suit is eye catching and on trend. You also can't beat that price point either.

Beach Blanket Bingo One Piece in Black
$89.99
As my girl Rachel Zoe would say, 'I die!' This suit is amazing! Retro, stunning and the perfect ruched bodice, the extra thick halter straps will mean added comfort and support too.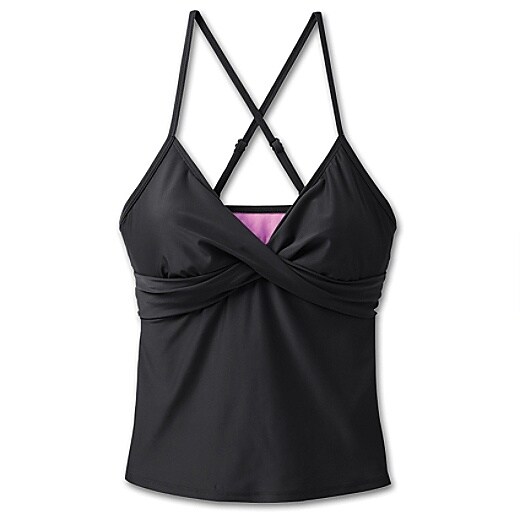 Athleta Solid Bra Cup Twistini Swim Tankini
$69.00
I threw this in there because every lady has a black pair of bikini bottoms. You can throw a well fitted black tankini top with any color/print bottom for an eclectic/boho look. I would probably go for this option since I love mixing and matching my bottoms and tops!

Billabong Swimwear - Womens - Billabong Victoria One-Piece
$77.50
Ahhh...door...ahhh...bull! Love this suit! Frilly, girlie and supremely feminine, this suit has those great front ruffles that are perfect for hiding bigger busts (lucky ladies) and disguising tinier ones (umm, hello!)

Old Navy Womens Halter Swimsuits
$29.50
You already know our obsession with chevron stripes and this stylish suit just makes us smile. A great cut, amazingly diverse print and something that can transition into evening beachwear too...this suit is very promising!

Old Navy Womens Cross-Front Halter Swimsuits
$29.50
I think a black one piece does get all the attention but why not be striking in a navy blue stunner!
Bathing Beauty One Piece in Violet
$89.99
What a refreshing bright pop of color in a very cute cut, this suit is quality so it'll withstand the test of the time and be your go-to one piece for years.
$97.00
Here it is, that striking timeless one piece that you'll cringe upon buying but sing it's praises for years and years to come. Halter, deep v neckline and a solid suit...this is worth every single penny!
$89.99
In a vintage cut and adorable plaid, we love this suit for it's sweetheart halter neckline and ruched side. Plus, strip off the bikini bottoms and rock it with a long maxi skirt for nighttime fun!

Do you have a reader request you've been wanting to ask me about? Feel free to email Morgan via RunwayDaily@RunwayDaily.com and I'll see what I can do!